As you are most probably aware, in order to legally comply with the EU General Data Protection Regulation (GDPR) that came into effect in May 2018, we are not allowed to use Google products – such as Google Hangout – in our courses as a mandatory tool. Students should not have to login or share their private data in Google products in order to take a course.
However, to facilitate your interaction with learners in the course, you can now switch your hang-outs to Virtual Classroom (only in Brightspace, see below*) or Cisco Webex. Webex is an open collaboration canvas that allows teams to meet, interact and work together. You can easily hold video conferences from your laptop (or use the dedicated room 1.2 at the Teaching Lab with useful extended screen options).
Take advantage of this tool's useful features and easily create polls, share your screen and files, and record your sessions. You can use Webex on every device, making it possible to have continuous collaboration all in one place. It is also very easy to set up and use with external groups and partners.
Some TU Delft colleagues have already been using Webex in their online courses, such as Emile Peters in the MOOC Project management, mastering complexity, who uses the tool to run a Q&A session. Or Margaret Welten, Senior Career Counsellor at the Career Centre: "I have experience in running several Google hangouts for our 'Designing your next career move' online course for engineers and their career development. We had participants from all over the world" she says. "I personally find Webex more user-friendly. When hosting a session, the course team sits in the Teaching Lab and we value and appreciate both the facilities and the support we get there. Online education is the future and we are delighted to be involved also in developing and using new online tools and services".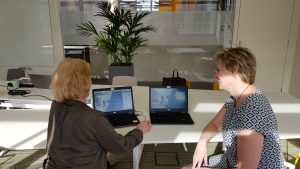 Pictured: Margaret Welten and colleague Mary Zuiderwijk running a course webinar with Webex.
A pilot is currently running to assess interest and satisfaction amongst TU Delft teachers. Already using it or planning to? Please get in touch with Teaching Lab, support for the Webex pilot.
They will create an account for you. You can also find a guide for webinars, including how to set up a webinar in Webex, in the Run phase on the HUB.
*If you run your course in Brightspace, Virtual Classroom (YouSeeU) is another alternative you could use. If you'd like to use it, please contact brightspace@tudelft.nl to activate this tool in your course.