Schedule a date for the course rerun
A course improvement plan
Revise the content and activities
Course available on the Delft OpenCourseWare site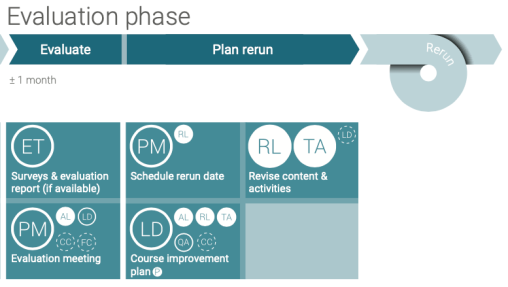 Evaluation report from survey data
Two surveys (pre- and post-) are added to each online course by the evaluation team. Note that you can have additional questions added!
The course team will receive either the survey results or an evaluation report to be reviewed before the evaluation meeting.
See Evaluation report creation process to see if an evaluation report is created for your course.
---
Evaluation meeting
Within 1 month of the course's completion, you are invited for an evaluation meeting with the Extension School product manager and learning developer to discuss improvements. This is part of the TU Delft Online Learning Quality Cycle. The Extension School takes the lead for the evaluation process during the first run of a course. The Faculty Coordinator of online education takes over afterwards.
The course team / moderators are expected to evaluate the course, including issues with activities and videos. You should also review the discussion posts during the course to find examples of positive quotes, and also comments/suggestions/criticism for improvement. These are valuable to discuss in the evaluation meeting.
Create a Course improvement plan (1 A4) with:
date for rerun
an actionable list of modifications to the course that should be modified for the rerun
feedback on support
Prepare rerun and revision of content & activities
The final step is to improve the course for its re-run, incorporating recommendations identified during the evaluation meeting. This will contribute to continuous course improvement.
Copy a Rerun checklist for your type of course and add your own improvements. Or check out From instructor-paced to self-paced, if you are changing your course into that.
Don't forget to review your About page so new online learners can join your course.
---
Publish material on OCW
The videos and relevant texts of your course will be shared via TU Delft OpenCourseWare website. The amount of content to share is discussed during or after the evaluation meeting.
The OpenCourseWare team will take care of the process and publication. You will be asked for final approval and sometimes for input.