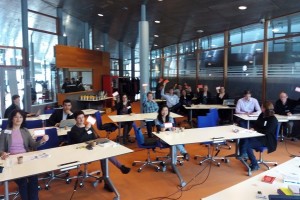 In the Open Education Week at TU Delft Pedro Cabral and Leonie Meijerink facilitated a workshop on integrating Open Educational Resources (OER) in your course design. The main objectives were:
Describe what OER are
Identify and find different types of OER
Come up with examples on how you could integrate  OER in your course design and delivery
Reflect on why you (don't) use them
12 participants attended the workshop. We had participants who were very new to the concept of OER, but we also had some experts in our midst.
Some participants shared some excellent examples of how they have developed and published OER themselves. For example, Michiel Munnik of the TU Delft Library shared this excellent resource, http://expeditiewikipedia.nl/. He had to go through great lengths of contacting a family in Canada to obtain the right permissions.
Another interesting example was a toolkit on Entrepreneurship, an'offline' OER, which was presented by Ellen van Andel of the TUD Valorisation Centre.
The participants shared ideas on how OER can be used in courses. The main thought was to start with small steps, though there was also someone who was thinking of completely redesigning his course.
If you would like to have a look at the presentation, you can find it here.